Feb 16th 2023
Ukraine war: 'soccer plot' raises fears of fresh Russian attempts to destabilise neighbouring Moldova
Moldova has been sliding into yet another crisis following the resignation of its prime minister, Natalia Gavrilita, and fears that Russia was plotting a coup to overthrow the pro-western president, Maia Sandu.
At a press conference in the Moldovan capital Chisinau on February 13, Sandu confirmed earlier accusations made by the Ukrainian president, Volodymyr Zelensky, in his speech to the European Council that the Kremlin was about to execute a coup against Moldova.
Zelensky said he had informed Sandu of a "detailed Russian plan" to "break the democratic order in [Moldova] and establish control over it".
In turn, Sandu said Russia's plan involved using "saboteurs with military background, camouflaged in civilian clothes, to undertake violent actions, attacks on state institutions and taking hostages". The coup would involve infiltration by foreign agitators from Russia, Montenegro, Belarus and Serbia, she added.
Sandu's statement was promptly rejected by the Kremlin, which said the accusations were "completely unfounded and unsubstantiated".
But Moscow has form for trying to destabilise Moldova as part of its strategy in the war against Ukraine – and, given its geography, Moldova is an easy and convenient target for the Kremlin. These latest revelations may therefore not be surprising, but they are deeply worrying and should dispel any myth that Vladimir Putin's objectives are limited to Ukraine.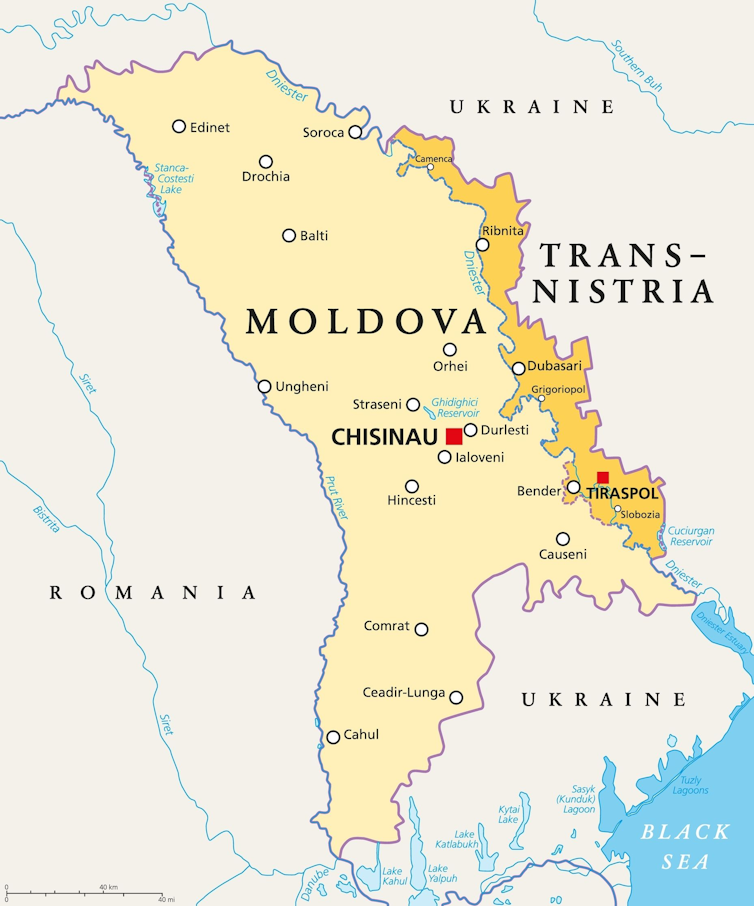 A history of subversion
Wedged between Ukraine and Romania – and torn between pro-European and pro-Russian sentiments – Moldova has long been a target of Russian influence-seeking. The conflict in Transnistria, dating back to the break-up of the Soviet Union, remains unresolved to this day – despite ongoing efforts by the Organisation for Security and Cooperation in Europe – and continues to offer Moscow important leverage over both Moldova and Ukraine.
Back in April, several explosions rocked the small breakaway territory, but a feared escalation of violence did not happen.
As the economic crisis in Moldova deepened as a result of the war in Ukraine and the hike in energy and food prices, pro-Russian forces in the country staged large public protests against the government and presidency.
These protests were organised by the so-called Shor party, named after fugitive Moldovan oligarch Ilan Shor, who is reportedly implicated in a political and financial scandal surrounding a major banking fraud involving the disappearance of US$1 billion (£880 million) from three Moldovan banks in 2014 – something he has denied. But the protests are widely viewed as the handiwork of Moscow exploiting ordinary Moldovans' economic hardship and trying to derail the pro-European course of the country.
Russian threats against Moldova are nothing new. But they have intensified over the past year after Moldova applied for EU membership when Russia invaded Ukraine. The country was granted official candidate status in June 2022.
There are concerns over the future of Moldova's sovereignty. Many believe this is part of Putin's plan to return Russia to a great-power status akin to the Soviet Union – the demise of which he has lamented as a "geopolitical catastrophe". Preventing now-independent countries such as Moldova and Ukraine from sliding into the western orbit of the EU and Nato will remain Putin's top foreign policy priority in the post-Soviet space.
The football plot
Over the past few days, more details have emerged about the alleged Russian plot in Moldova. Apparently, well-trained and well-equipped foreign agents were meant to infiltrate the ongoing protests, then instigate and carry out violent attacks against state institutions, take hostages and replace the current government.
This may seem far-fetched, but is it? Yesterday, Moldova denied entry to Serbian soccer fans who had planned to support their team, FK Partizan Belgrade, in a Europa Conference League match against the Transnistrian side Sheriff Tiraspol.
While the Montenegrin and Serbian governments sought clarification from Sandu on the allegations, there is a history of Serbian football hooligans being involved in paramilitary activities, including war crimes committed by the notorious Arkan Tigers during the war in Bosnia in the early 1990s.
Moreover, Russia attempted to overthrow the Montenegrin government in October 2016, just ahead of the country's Nato accession the following year, in a plot eerily prescient of what was allegedly planned recently in Moldova.
Continuing crisis
Even if this latest Russian attempt at meddling in Moldova's affairs has been successfully thwarted, it is unlikely this will be the end of the Kremlin's attempts to use Moldova as leverage against Ukraine and the west.
The economic and political crisis in Moldova is real, thus offering Moscow plenty of opportunity to capitalise on people's concerns over rising food, gas and electricity prices. There is also significant pro-Russian sentiment in both Moldova and Transnistria – this may not be pro-Kremlin sentiment, but it combines an affinity with Russian culture, a nostalgia for the Soviet past, and resentment over the costs of European integration and its uncertain future benefits.
All this clearly plays into Moscow's hands as it creates uncertainty for the government in Chisinau. It also raises fears in Kyiv of a potential second front on its southern border, close to the city of Odesa. For the EU, it increases the costs not only of keeping Moldova stable, but also of shepherding through the reforms necessary on its path towards EU membership.
The long history of Russian destabilisation efforts in Moldova underlines the need for a clear and decisive response, not only from the government in Chisinau but also from the country's western allies. Kremlin meddling in Moldovan politics is bound to continue, creating instability and uncertainty about the future status of Ukraine's critically important neighbour.
Stefan Wolff, Professor of International Security, University of Birmingham
This article is republished from The Conversation under a Creative Commons license. Read the original article.